Rendezvous 2023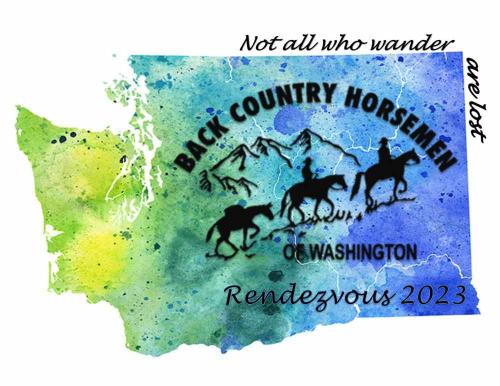 2023 BCHW Rendezvous
March 17 - 19, 2023
Kittitas Valley Event Center, Ellensburg, WA
What is Rendezvous??
It is a state sponsored event put on by Back Country Horsemen of Washington that is open to the public. This is a non-riding event. We offer educational classes, shopping, social and informative events and seminars. There are no fees for anything other than the Saturday night catered dinner and on-site camping.
Check out all the great photos from last year's event by clicking here!!
There will be a General Membership meeting for all to attend on Sunday morning at 10:30 in the Teanaway Room!! We will have the ________________ as our Keynote speaker and our annual State Awards Presentations!! Please join us!!!
Reservation Forms for the weekend:
Online Camping and Catered Dinner reservation form
Printable Paper Camping and Catered Dinner reservation form
Early Bird rates end on March 1st
No refunds after March 1st
Weekend Schedule: Coming soon
Friday Schedule of Events
Saturday Schedule of Events
Sunday Schedule of Events
Kittitas Valley Event Center Map: Click Here
For printable Driving Direction: Click Here
List of Vendor: Click Here Coming soon
Find info on Ellensburg hotels (possible discounts): Coming soon
If you wish to make reservations, please be sure to call the hotels directly. DO NOT use a third-party booking site
Clinicians:
Tom Reed Horsemanship: "Helping You Become a Better Partner with Your Horse"
Tom's goal is to help people be more successful and safer with their horses thru the Horsemanship, Obstacle, and De-spooking clinics that he puts on all year long. He is based in Rochester, WA out of Rainbow Meadow Farm. He will be the guest clinician and will be putting on 2-days of clinics at Rendezvous in March. On Friday he is offering Horsemanship and obstacle groundwork in the morning and obstacle and desensitizing in the afternoon. Saturday with be a De-spooking clinic. These are 2 separate clinics, with a special price for BCHW members, $150 per clinic or $250 if you ride in both. Stabling is $16 per night, bring your own shavings.
Riding spots are limited, contact Tom for a spot by calling or texting him at 253-341-6506. Spectators are free, no need to reserve a spot for watching. More information about Tom will be coming in the next Trailhead News and see his Facebook page at https://www.facebook.com/TomReedHorsemanship
Sundays General Meeting
Keynote Speaker to be determined
---
Printable Flyers (for posting in your local area):
Rendezvous Flyer Click Here Coming soon
Tack Sale Flyer Click Here Coming soon
Chapter Table Reservations for Catered Dinner and Auction:
Online Table Reservation Form Click Here
Vender Info:
Click here for Vendor Letter
Click here for Vendor Paper Registration for booths
Click here for the Online Vender/Exhibitor Registration Form