Public Lands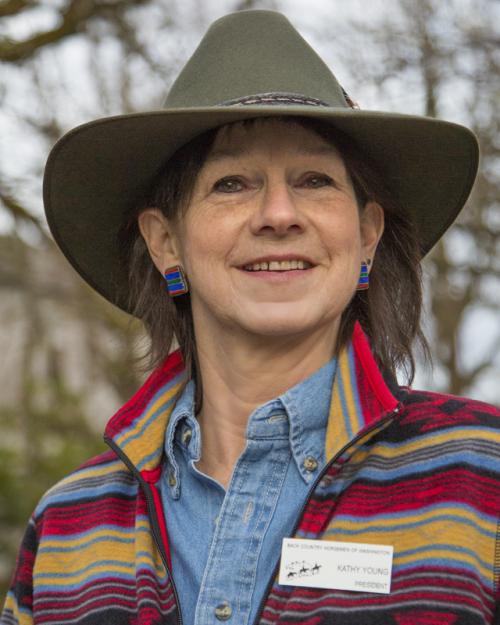 Public Lands are the basis for our mission and the reason that Back Country Horsemen of Washington exists. Access for stock users to public lands was seriously endangered in the early 1970's. Small groups of people in 4 western states recognized the need to organize in order to retain the right to ride. These states created organizations with a mission to advocate for stock use on trails and to provide support to the Forest Service and other agencies by providing volunteer maintenance. These state organizations rapidly coalesced to form a national organization, Back Country Horsemen of America. 
Back Country Horsemen of Washington (BCHW) has established chapters and has members all across the state to support the BCHW mission. The tabs located on this website will provide a number of links to resource materials that are necessary to accomplish our mission. Members will be able to find information for work party leaders and recreational rides as well as organizational documents. This Public lands webpage will contain links to webpages for the USDA Forest Service, Washington State Fish and Wildlife, Washington Department of Natural Resources, Bureau of Land Management and Washington State Parks.
Before heading out on your next adventure make sure you have all the information you need to have a successful outing.
Current Updates
Washington State Public Lands Phased Re-Opening
Media Contact: Chris Bentley, (509) 860-7516
Some Forest Service campgrounds reopening near Cle Elum
Cle Elum, WA (June 4, 2020)--Some U.S. Forest Service campgrounds on the Cle Elum Ranger District will reopen on Friday, June 5th. Campgrounds opening include Kachess, Salmon La Sac, Red Mountain, Cle Elum River, Taneum, Icewater, Riders Camp, Manastash, and Cayuse Horse Camp; and Taneum junction area will also be open to camping.
"Crews will continue to remove hazard trees in campgrounds that remain closed," Recreation Manager Brian Speeg said. "Safety of forest visitors is our number one goal, so campgrounds won't reopen until these hazards are mitigated."
Recreationists planning to visit the Swauk and north of 29 pines in the Teanaway areas are reminded there is a temporary area closure to assist with an ongoing law enforcement investigation. Please see the map identifying the area closer boundaries at https://bit.ly/371nSeW .
All other campgrounds on the Okanogan-Wenatchee-Wenatchee National Forest will remain closed, awaiting county phased reopening approvals from the State of Washington.
"Many folks may be disappointed that other popular developed campgrounds located on the other ranger districts remain closed at this time," Public Affairs Officer Chris Bentley said. "We are working to remain in alignment with the state's phased re-opening, and Kittitas County was cleared to move to Phase 2. The overall goal in reopening is to conduct it in a safe and thoughtful manner following guidelines from the CDC and State Health departments."
Dispersed camping is still available in many areas around the forest. However, toilets will not be available and there is no trash pick-up in most dispersed camping areas. Please practice "No Trace Camping" while enjoying your stay. Also, practice safe campfire use; make sure campfires are completely extinguished and cool to the touch before leaving the forest.
Passes and Permits
Passes and permits are a reality of recreating in Washington. Information about necessary passes and permits for the different agency properties are also linked here. (Link permission granted by Washington Trails Association)
Land Managers
UPDATE: Washington State Public Lands Phased Re-Opening #Recreate Responsibly
5/6/2020 ZOOM meeting: DNR, WDFW and State Parks officials reported a smooth reopening of public lands on 5/5/2020. They are waiting for feedback from staff, but as a whole the process went well. The #Recreate Responsibly guidelines are being shared across agencies and organizations with the goal of providing a clear and consistent message to Washingtonians as they start to get back out and enjoy outdoor activities again.
Washington Dept. of Natural Resources reports that they have done site visits and re-opened most areas. For site specific information and status updates go to www.dnr.wa.gov/open.


Washington Dept. of Fish and Wildlife has assessed and reopened 851 sites. 5 sites remain closed; those sites would normally remain closed at this time. For specific information on restrictions/closures and status updates go to https://wdfw.wa.gov/about/covid-19-updates


WDFW has created an online form available for users to report any condition concerns or issues. https://wdfw.wa.gov/about/wdfw-lands/report-conditions
Washington State Parks has reopened most sites. 35 Parks remain closed at this time, including State Parks sites in the Columbia River Gorge and on many ocean beaches. For a complete list of open and closed parks go to https://parks.state.wa.us/1181/Parks-opening


U.S. Forest Service is continuing to plan for a phased opening later in May, no majors changes to current guidelines have been announced for FS properties and facilities.


At Mt Rainier NP gates will remain closed for the time being. Parking outside and walking in is allowed. Mt Rainier staff is continuing to perform spring maintenance, although on a later schedule. There will be a cut back in seasonal staffing due to group housing concerns. As a result some facilities and programs may not be available.
North Cascades National Park has the same staffing and shared housing concerns. North Cascades National Park is aiming for a reopening to coincide with the seasonal reopening of Hwy. 20.
This coalition of agencies and recreation partners will continue to meet weekly and to provide updates and resources as we move to full reopening of our public lands. Next week we will plan to turn more attention to volunteering and trail work, best practices and processes.
Kathy Young, Public Lands Chairman, public_lands@bchw.org
---
Washington State Lands partial reopen May 5, 2020 Message
Washington State Lands partial reopen May 5, 2020
A message from BCHW Public Lands Chairman Kathy Young:
Washington State Fish and Wildlife, State Parks and Dept. of Natural Resources are opening their lands on May 5th for DAY USE ONLY.
Reopening state lands is proving to be a complicated process and will require all of us to recreate responsibly if we want to keep making progress back to full access including camping and larger groups. All of that will depend on numbers - numbers of cases of COVID-19 decreasing and numbers of people crowding recreation sights. The stay at home order has not been lifted, so finding trails and riding areas that are local is optimum.

Before you go
• Check what's open. While many state-managed land destinations are open for day-use, other local, tribal, and federal land may still be closed.
• Opt for day trips close to home. Overnight stays are not permitted. No camping, no dispersed camping will be allowed on state lands at this time.
• Stay with immediate household members only. Recreation with those outside of your household creates new avenues for virus transmission. Group events are not permitted at this time.
• Come prepared. Visitors may find reduced or limited restroom services as staff begin the process to reopen facilities. You are advised to bring your own soap, water, hand sanitizer, and toilet paper, as well as a mask or bandana to cover your nose and mouth. Agency staff will be working hard to complete maintenance tasks that they have been unable to do because of the shutdown.
• Enjoy the outdoors when healthy. If you have symptoms of fever, coughing, or shortness of breath, save your outdoor adventure for another day.

When you get there
• Avoid crowds. Be prepared to go somewhere else or come back another time if your destination looks crowded. Have a plan A and plan B, if you arrive at a destination that seems crowded opt to go elsewhere.
• Practice physical distancing. Keep six feet between you and those outside your immediate household. Leave at least one parking space between your vehicle and the vehicle next to you. Trailer in the same way.
• Wash your hands often. Keep up on personal hygiene and bring your own water, soap, and hand sanitizer with you.
• Pack out what you pack in. Take any garbage with you, including disposable gloves and masks.

Messaging is being prepared by a group consisting of WDFW, DNR and State Parks, along with representatives from 20 user groups in the hope of spreading consistent information. Each and every agency and user group will be building messages to share with the public. This is intended to give people enough information to make choices that won't lead to an uptick in covid19 cases, or to situations where the agencies feel that they need to re-close sites.

So what does this mean for BCHW? I hope it means that we will recreate responsibly, continuing to do our part to keep COVID-19 case numbers on the decline.

In a call tonight April 29, WDFW talked about " hot spots" where they expect they may see overcrowding. It was not surprising that shed hunting areas were specifically called out as hot spots. I know that we always look forward to the shed hunt opportunity, but for this season you may want to reconsider. We are a relatively small user group, but we have a big, big presence. I would hate to be the group on the front page of a newspaper and be called out for overcrowding a site.

After working with agencies and other user groups to create this messaging in the last few days I had a nightmare of vastly overcrowded sites and way too many people followed by the threat of re-closure. Some of my colleagues at the other rec. organizations are reporting the same thoughts. I have my fingers crossed that we can move through this by adopting the "Responsible Recreation" mantra, by thinking in the long term and by providing good examples of how to get back out into the woods safely. "Safely" sure has taken on a whole new meaning.
Thanks for reading this through, and thanks for your consideration as we navigate back to fully open public lands.
Best Regards to all of you,

Kathy Young , BCHW Public Lands Chairman
E-Bike Regulations
April 2, 2020
The Bureau of Land Management (BLM) today announced a 60-day public comment period on proposed electric bike, or e-bike, regulations. Their intent being to make it easier for more Americans to recreate on and experience their public lands. This effort is in line with Secretary of the Interior David Bernhardt's call for the BLM and other Interior bureaus to expand access on public lands to e-bikes. Given their use of a small (1 horsepower or less) electric motor, the BLM currently manages e-bikes as off-highway vehicles. As a result, there is some uncertainty among e-bike users as to where they may ride their bikes on BLM-managed public land. As a remedy, the proposed rule would amend the BLM's current off-road vehicle regulations to add a definition for e-bikes, compatible with Secretarial Order 3376, Increasing Recreational Opportunities through the use of Electric Bikes. The 60-day public comment period has commenced and the proposed rule has been published in the Federal Register. The public comment period will end on June 9. You can find the proposed rule at this link here. Interested parties may submit comments on the proposed regulation, identified by the number RIN 1004-AE72, by any of the following methods:
Mail: U.S. Department of the Interior, Director (630), Bureau of Land Management, Mail Stop 2134 LM, 1849 C St., N.W., Washington, D.C. 20240, Attention: RIN 1004-AE72.