Public Lands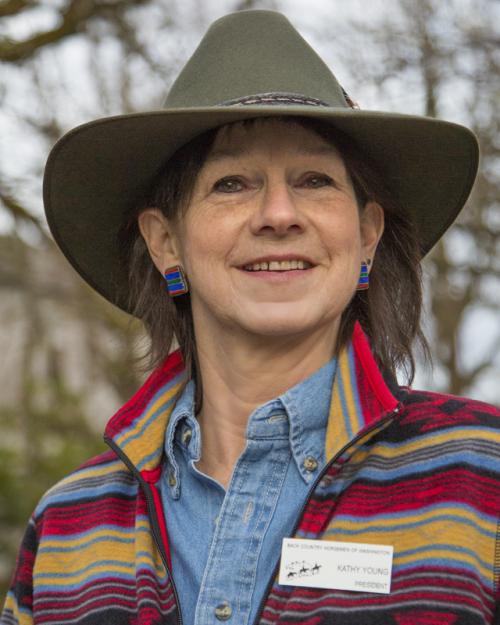 Public Lands are the basis for our mission and the reason that Back Country Horsemen of Washington exists. Access for stock users to public lands was seriously endangered in the early 1970's. Small groups of people in 4 western states recognized the need to organize in order to retain the right to ride. These states created organizations with a mission to advocate for stock use on trails and to provide support to the Forest Service and other agencies by providing volunteer maintenance. These state organizations rapidly coalesced to form a national organization, Back Country Horsemen of America. 
Back Country Horsemen of Washington (BCHW) has established chapters and has members all across the state to support the BCHW mission. The tabs located on this website will provide a number of links to resource materials that are necessary to accomplish our mission. Members will be able to find information for work party leaders and recreational rides as well as organizational documents. This Public lands webpage will contain links to webpages for the USDA Forest Service, Washington State Fish and Wildlife, Washington Department of Natural Resources, Bureau of Land Management and Washington State Parks.
Before heading out on your next adventure make sure you have all the information you need to have a successful outing.
Current Updates
Teanaway Community Forest Trail Planning Effort Begins
With the recent completion of the recreation plan in late 2018, the Teanaway Community Forest is poised to become one of Washington's finest hiking, mountain biking, horseback riding and winter snow sports destinations in the state.
Now, the next step, occurring now through spring 2021 is to define and begin to develop a designated trail system for the community forest trail planning and maintenance will build critical early momentum towards future investments in the Teanaway.
The West Fork area of the TCF is the most heavily used and has the densest user-built trail system on the forest. This area will be the focus of this planning process. While the priority will be on the West Fork area, considerations will be made for future trail connections into other areas of the forest.
BCHW members with familiarity and GPS tracks of favored equestrian trail in the Teanaway are urged to share those tracks and information with Kathy Young and Tina Short for incorporation into the trails planning process. Kathy and Tina are currently serving on the sub-committee for Teanaway trails planning.
The Teanaway Community Forest (TCF) is co-managed by the Washington State Department of Natural Resources and Washington Department of Fish and Wildlife.
As Washington's first state-administered community forest, the Teanaway Community Forest is legislatively bound to hold five goals in balance of each other:
1. To protect and enhance the water supply and protect the watershed;
2. To maintain working lands for forestry and grazing while protecting key watershed functions and aquatic habitat;
3. To maintain and where possible expand recreational opportunities consistent with watershed protection, for activities such as hiking, fishing, hunting, horseback riding, camping, birding and snowmobiling;
4. To conserve and restore vital habitat for fish, including steelhead, spring Chinook, and bull trout, and wildlife, including deer, elk, large predators and spotted owls; and
5. To support a strong community partnership, in which the Yakama Nation, residents, business owners, local governments, conservation groups, and others provide advice about ongoing land management."
Washington State Public Lands
Please practice "No Trace Camping" while enjoying your stay. Also, practice safe campfire use; make sure campfires are completely extinguished and cool to the touch before leaving the forest.
Passes and Permits
Passes and permits are a reality of recreating in Washington. Information about necessary passes and permits for the different agency properties are also linked here. (Link permission granted by Washington Trails Association)
Land Managers
Washington State Public Lands #Recreate Responsibly
UPDATE:
We urge you to watch the following video on recreating responsibly. Please help us in spreading the word.
Washington Dept. of Natural Resources For site specific information and status updates go to www.dnr.wa.gov/open.


Washington Dept. of Fish and Wildlife For specific information on restrictions/closures and status updates go to https://wdfw.wa.gov/about/covid-19-updates


WDFW has created an online form available for users to report any condition concerns or issues. https://wdfw.wa.gov/about/wdfw-lands/report-conditions
Washington State Parks For a complete list of open and closed parks go to https://parks.state.wa.us/1181/Parks-opening


U.S. Forest Service is continuing to plan for a phased opening later in May, no majors changes to current guidelines have been announced for FS properties and facilities.


Kathy Young, Public Lands Chairman, public_lands@bchw.org
---
E-Bike Regulations
April 2, 2020
The Bureau of Land Management (BLM) today announced a 60-day public comment period on proposed electric bike, or e-bike, regulations. Their intent being to make it easier for more Americans to recreate on and experience their public lands. This effort is in line with Secretary of the Interior David Bernhardt's call for the BLM and other Interior bureaus to expand access on public lands to e-bikes. Given their use of a small (1 horsepower or less) electric motor, the BLM currently manages e-bikes as off-highway vehicles. As a result, there is some uncertainty among e-bike users as to where they may ride their bikes on BLM-managed public land. As a remedy, the proposed rule would amend the BLM's current off-road vehicle regulations to add a definition for e-bikes, compatible with Secretarial Order 3376, Increasing Recreational Opportunities through the use of Electric Bikes. The 60-day public comment period has commenced and the proposed rule has been published in the Federal Register. The public comment period will end on June 9. You can find the proposed rule at this link here. Interested parties may submit comments on the proposed regulation, identified by the number RIN 1004-AE72, by any of the following methods:
Mail: U.S. Department of the Interior, Director (630), Bureau of Land Management, Mail Stop 2134 LM, 1849 C St., N.W., Washington, D.C. 20240, Attention: RIN 1004-AE72.