BCHW Donations
Make a Donation Today
Your donation makes it possible for us to support our mission and ensure our valuable work continues, keeping trails open for you.

BCHW is a 501C3 charitable organization as such all donations are tax deductible.
---
You may donate using the PayPal link below. Note: You do not need to join PayPal to use this service.
Note: If you wish to designate your donation to a particular, project or unit, please indicate on your request.

---
We gratefully accept donations several ways.
It is easy for you can make an online donation by clicking on the below PayPal icon or mail a donation to the below address.

BCHW
P.O. Box 1132
Ellensburg, WA 98926
MAKE A DONATION!!!!!
Now you can make a donation to the State, Individual Chapters and Special Projects! Click on the link below! Once you've selected your choice/choice and dollar amounts you will see a total at the bottom. Click on "Go to Payment Page" and you will be taken to our PayPal account. There you will see your total again! You do not need a PayPal account!!
---
AMAZON SMILE IS GOING AWAY!!!!
Click Here to read the article
---
Fred Meyer Community Rewards Supports BCHW

The Kroger Family of Companies is committed to supporting communities and charitable giving through the Fred Meyer Community Rewards program.  You can link your Fred Meyer card to BCHW.  Below are the instructions.
Sign into your digital account.
Search for your organization here.
Enter the name or NPO number of the organization you wish to support.
Select the appropriate organization from the list and click "Save".
Your selected organization will also display in the Fred Meyer Community Rewards section of your account.  If you need to review or revisit your organization, you can do so under your Account details.
Any transactions moving forward using the Shopper's Card number associated to your digital account will be applied to the program.  Fred Meyer donates annually to participating organizations based on your percentage of spending as it relates to the total spending associated with all participating Fred Meyer Community Rewards organizations.
Thank you for supporting Back Country Horsemen of Washington.
---
Mud Mt Dam Equine Parking Lot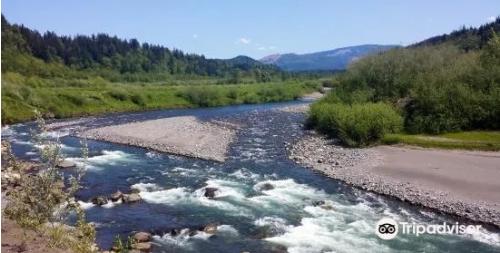 Tahoma Chapter of Back Country Horsemen of Washington (BCHW) is collecting donations to cover the expense for the gravel surface of a new equine parking lot on the SE Mud Mountain Dam Road off Hwy 410, south of Enumclaw, Washington.
The parking lot will be constructed on U.S. Army Corp of Engineers managed land and will allow direct trail access from the parking lot via the Rim Trail.
Construction is planned for Early Spring 2023.
Individuals and Groups are invited to contribute in the amount that you select.
A 501(c)(3) tax donation receipt will be provided to all donors.
Thank you very much for your donation.
Work Parties will be scheduled to clear trails in the area. Contact if interested: mudmtndam@bchw.org
Click Here for a shareable flyer.
Click Here to donate.
---