Pack Support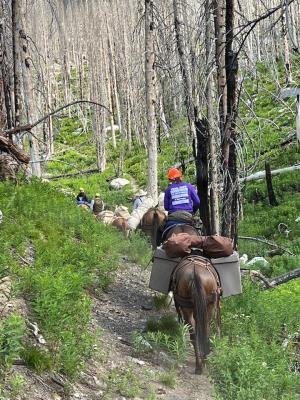 Providing pack support for Trail Crews is critical to the success of this project. Some of the opportunities will be…
Trailhead based shuttle packing. Cashing stock feed, tools, supplies and gear where needed. Generally, less than 10 miles round trip.
Spike Camps, so you will get to spend quality time in the saddle and spend the night out under the stars.
Assisting stock handlers at trailhead. Spend time with some of our seasoned packers learning how to Mantei packs and balance loads.
Serving as Wrangler on Trailhead packing and Spike Camps. This would be a great learning opportunity for folks that have not spent time stock packing.
We want to make sure that you have a safe, positive and rewarding experience. To ensure this, we are happy to be providing training opportunities at Rendezvous as well as in the field.
It's great to learn new skills, however, packing in this country is challenging. There are lots of downed trees and changing conditions along with heat or snow in July/Aug. We will be working closely with you to make sure that the project/team you are assigned to is a good fit and a great experience.
All of this work will involve complex scheduling, so making firm commitments and remaining flexible will be critical.
Reimbursement to volunteer packers including transportation and meal allowance will be available.
Attached you will find a link to an online form, Packer Survey. We will be using this to compile a data base of who likes to do what, what their capabilities are, time frames they are available and contact information.
We have a great team working on this endeavor to make it a success Please let us know if you have any questions or concerns by emailing: pasaytenproject@bchw.org
Thanks so much for caring about the trails that take us amazing places.
If you are interested in assisting with Pack Support, CLICK HERE to register.