2022 BCHW 21st Annual Winery Ride, October 29th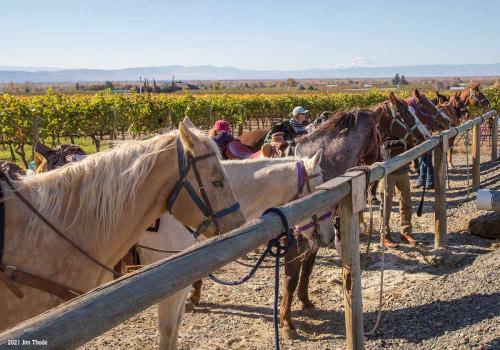 WINE RIDE 2022 Registration has started!!!!
October 29th, 2022, in Zillah, WA
Online forms for credit card payments and printable forms are available below.
The 2021 BCHW Winery Ride was amazing, and we broke a record for the number of campers and riders. Last year we sent out a survey to participants so that they could tell us the good, the bad and the ugly. We listened to your concerns and while we can't solve every issue, we have made the following changes:
We eliminated over 80 camping sites that were on the steepest part of the base camp property and increased the size of each site to 30'x70'. These will be $20/night.
We have another site 1 ½ miles away from the main camp, and one mile by trail where we will have premium sites that are about 40'x100' for those ginormous rigs. These will be $30/night. The sites are flat and have no sprinkler heads to go around. We will have an on-site host that will make sure you get your registration packets, then just ride over or drive over to the main camp to buy raffle tickets, shop the BCHW Store and look at prizes.
BCHW got out of the food business, we will have independent caterers on site. There is no prepayment or reservations needed but there will only be 200 meals total to purchase; this will be first-come, first-served starting at 5:30 PM and ending at 7:30 or when sold out.
We will enforce a quiet time after 10:00 PM and all generators need to be off unless you are on Use a C-PAP machine
Only propane firepits or grills are allowed.

No firewood burning in camp

.
The other exciting news is that we have picked up a new brewery on one of the loops for all of you beer connoisseurs and yes they are working on the availability of taste testing their beer.
Get ready to plan your next costume and join us for another great event.
ALL Riders must read and sign our Liability Release. Please print, sign and bring a form with you and turn into the folks at Registration!
Online Registration Form: Online Registration Form
Printable Form: 21st Annual Winery Ride Registration Form Mail no later than 10/10/2022
Printable Liability Release: 2022 Winery Ride Liability Release
Directions to Base Camp 2022 BCHW Wine Ride Directions
Direction to our Offsite camping will be emailed to those who pay for those sites.
Want more information? Click here for our "Know Before You Go" document
If you have any questions, feel free to email us at bchwwineryride@gmail.com
Volunteer Only Sign-Up Form, Click Here to Register
Remember, this event supports BCHW and your participation advances our mission to keep trails open for all of us. No matter where you are, there are trails that you enjoy due to the work that this organization does.
If you have any questions, email bchwwineryride@gmail.com
---