Kalama Regional Work Party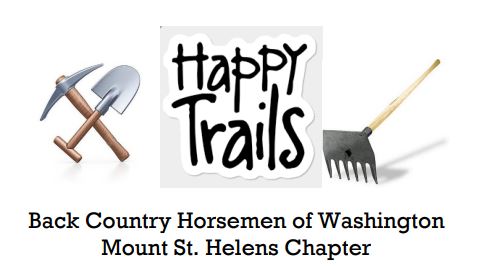 Kalama Regional Work Party Thursday June 23rd thru Sunday June 26th
Click here for printable Flyer
Mt. St. Helen's Chapter of BCHW is hosting a regional work party at Kalama Horse camp in SW Washington near Cougar WA.
Campsites reserved Wednesday-Sunday and assigned at check-in.
Camp sites are available June 22-27th and the work party will be from the 23-26th.
WEED-SEED FREE HAY REQUIRED ON NATIONAL FOREST LANDS.
FOCUS this year: Cinnamon Trail
Work includes: TREAD WORK, BRUSHING, LOGGING, AND MORE…
Keep in mind that volunteering does not have to be out on the trail. We need help keeping the home fires burning as well.
DINNER AND LUNCH WILL BE PROVIDED TO VOLUNTEERS THURSDAY - SUNDAY.
Registration Required: This allows the coordinators to determine amount of food to be ordered:
Registration has ended.
Questions? Email Jim Anderson at muleman1951@gmail.com