Trail Work Opportunities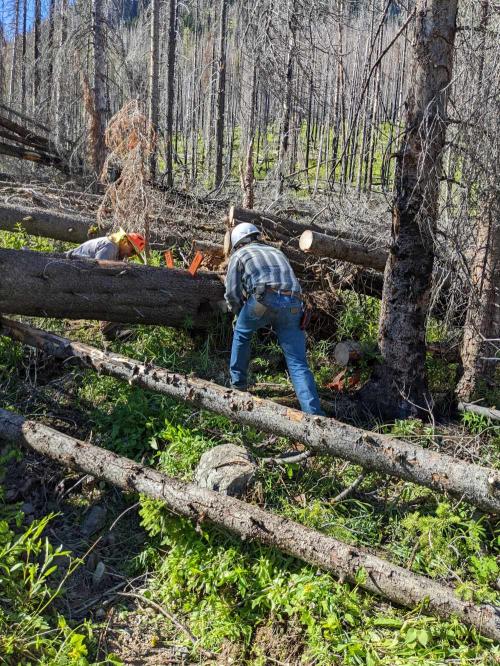 With the help of our partners, BCHW is excited to begin tackling the incredible backlog of deferred maintenance. This will involve brushing the worst sections where the trail can barely be followed and repairing sections of trail that has blown out. We will be addressing drainage issues, repairing/replacing the dozens of bridges that are failing, bringing attention to the multitude of culverts that are not effective and logging out hundreds and hundreds of downed trees.
Annual Maintenance. Properly maintained trail can last a long time. But that means making sure trail problems are addressed as quickly as possible. Brushing, drainage and tread work all help keep our trails in shape.
Construction Projects Some sections of trail require an extra degree of engineering to make them long-lasting. The common building materials (rocks and logs) are usually sourced from the surrounding area and then prepared for installation. There are a number of tried-and-true structures that do a great job of fortifying a crumbling swath of trail, elevating a section out of the mud, or spanning a creek or river.
Trails in the Pasayten Wilderness have been greatly affected by fires over the years. The number and complexity of logs across trails is staggering. Crews will be working to open these trails with crosscut saws, hand saws and sweat equity.
We want to make sure that you have a safe, positive and rewarding experience. To ensure this, we are happy to be providing training opportunities at Rendezvous as well as in the field. It's great to learn new skills, however, packing in this country is challenging. There are lots of downed trees and changing conditions along with heat or snow in July/Aug.
We are working on putting together a Trail Maintenance schedule for the summer. Keep checking back and soon you will be able to see the date, location and project. You will then be able to register for a specific work party.
We have a great team working on this endeavor to make it a success Please let us know if you have any questions or concerns by emailing: pasaytenproject@bchw.org
Thanks so much for caring about the trails that take us amazing places.
Below you will find a link to an online form. We will be using this to compile a data base of who likes to do what, what their capabilities are, time frames they are available and contact information.
To register for a specific work party, click on the links below:
July 1-2, 2023, Andrews Creek Trail Work Party
Click here for more info and to register to attend.
July 15-16, 2023, Larch Creek Work Party
Click here for more info and to register to attend
July 28-30, 2023, All Ladies Jackita Creek Work Party
Click here for more info and to register to attend
July 29-30, 2023, Robinson Creek Work Party
Click here for more info and to register to attend