Black Pine Jack Creek Trail Work Party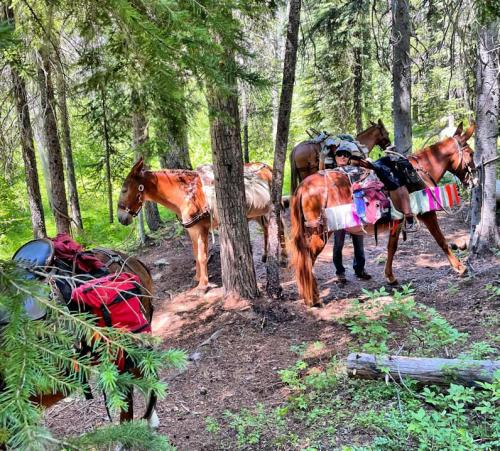 Hello Black Piners!
Lots has happened since the last email. Tom Faubion and Gary Zinc went to Black Pine May 29-May 31. They were able to log-out 2 miles of trail on Jack Creek and 1 mile of trail on Trout Tr. Snow stopped them on both trails. They also got some excellent recon of logs up the trails. Diane McCuin, Roy McCuin, and Barb Talbot went in On June 1 and logged the 1.3 mile Jack Pine connector trail. That is 4.3 miles of trail we don't have to worry about for the June 11-14 work party! It is predicted to rain in Alpine Lakes all this week which means snow will be melting rapidly just in time for a sunny work party!
Tim and Rachel- Don't even think about taking stock to Jack Creek to recon until after the June 11 work party. Too much snow and show stopping logs.
Schedule for the June 11-14 Work Party
We will be providing coffee and muffins and bananas for breakfast Sunday and Monday and some sort of BBQ meat and toss salad for Saturday and Sunday dinner. We need volunteers for fruit, chips and salsa, and cookies for both nights. Lunches are on your own. Monday night and Tuesday morning are on your own.
Please reconfirm whether you are coming so we can plan tools, teams, and food!
Saturday June 11, 2022
Set up camp and organize tools, report vehicle mileage, and do Paperwork.
Black Pine is a Grant supported project. Any volunteer hours, per diem, BCH stock hours and packing hours will go to "match $". This Match $ will fund professional packers to pack us in to the high country in July. Match will possibly fund a youth corp crew for a week to Bench out the Trout Trail (hard labor). This is better for younger backs than ours! As much as we all hate paperwork, it will keep us doing what we like to do; log-out trails, tread improvement, and drainage. Since the gas prices have sky rocketed, we will seek gas mileage reimbursement from the Grant for each crew member that desires. To do this, each crew member needs to fill out a Reimbursement Form with name and address and a W-9 form which I will have for you. I will send these forms to the BCHW Grant Administrator, Jen Bond. In the fall you will get a check to cover fuel expenses. Anyone who wishes to donate their vehicle mileage as grant match is welcome to.
6:00 Dinner-
7:00 Safety meeting-sign in
Figure out teams
Team 1 Camp clean up and log out 1597.1 (out of camp to Rock Island Campground)
Team 2 Log Jack Creek Trail
Team 3 Log Trout Trail
Go to bed early!
Sunday June 12
6:00 Coffee eat breakfast Team 2 and 3
7:00 Team 2 and 3 driving to Jack Creek/Trout TH
Stock crew head to Jack Creek
Team 1 to be decided

5:00 All teams back to Camp, report work hours
6:00 Have Dinner and stay over night
7:00 Make a plan for Monday and mini safety meeting

Fall into bed.
Monday June 13
6:00 Coffee and Breakfast
7:00 Crew 2 and 3 leave camp and start logging where they left off
Stock Crew start logging Jack Creek Trail
5:00 Everyone back in camp, report work hours, discuss what needs to be done at next work party
Those who live close drive home
Stock crew make a plan for following day- strong hikers are welcome to stay and work with the stock crew- talk to Barb
Tuesday June 14
Stock Crew go to work on Jack Creek Trail- keep track of work hours
Those who are done working and drive far, go home.
Wednesday June 15
Stock continue to log Jack Creek and keep track of hours.
Thursday June 16
Stock crew go home.
Barb will report to Wenatchee River Forest Service Ranger District the work that was accomplished.
Tim and Rachel this is where we will need you to scout where we left off logging on Jack Creek.
The 4th of July Week, will be our first stock packing/camping in the high country work party for the season. I am not sure how this is going to go since snow is hanging out so long in the high country. The goal will be to get across high water at upper Jack Creek which may take a couple of days of logging and clear logs to the Hunter camp on meadow creek. Hopefuy more.
Sunday July 3 - drive into Black Pine Horse Camp, report vehicle mileage, do paperwork
Have a safety meeting
Organize tools with consideration of pack stock
Monday July 4 - Continue logging where we left off June 15. Stay in Camp?
Tuesday July 5- Pack in and get across upper Jack Creek?
Wednesday July 6 - Continue logging where the logging fairies take us
Thursday July 7 - same
Friday July 8 - Pack out to Black Pine Horse Camp
Saturday July 9 - drive home
Report to Wenatchee River Ranger District work that was accomplished
Fine tune tread work projects for the Big Work Party for final tool planning
The Big Stock Supported Work Party is July 16-21
We Pack in to Hunter Camp July 17 and Pack out July 21
Icicle Outfitters and Tim Main Mules, I will let you know how many pack stock and riding stock we need after the June 11 work party.
Jason, I will let you know the logging status of Edgy Ledgy after the June 11 work party.
Joanne - big thanks to you for riding around camp and watching our rigs. Hopefully you can ride out to meet us!
Tj and Carly - the solar water system either hasn't been turned on or it is broken, any chance that can be fixed before the the June 11 work party? The Icicle Road is pretty rough this year, any chance the grader can be activated this week? One of our new crew members went up the Icicle Road to check out the camp and were shocked at how bad it is. They are having second thoughts on participating. We need all the volunteers we can get to open these trails.
Tim and Rachel, don't even consider riding and scouting up there until we finish the June 11work party. There are some real show stoppers logs not to mention snow.
Joanne, the camp is in pretty good shape. Do you have a count for how many are coming in your group? You don't need to feel obligated to the early start since you will be working close to camp but you are welcome to join us for Sunday and Monday breakfast. We would like to include you for Saturday and Sunday dinners and get to know the Wenatchee BCH! Keep me posted!
Justin, are you in?
I look forward to seeing you all soon!
Trail Work On,
Barb Talbot
253-312-3626
For more information Click here
To register for the Work Party, Click Here
For Directions Click Here