Black Pine Cradle Lake Work Party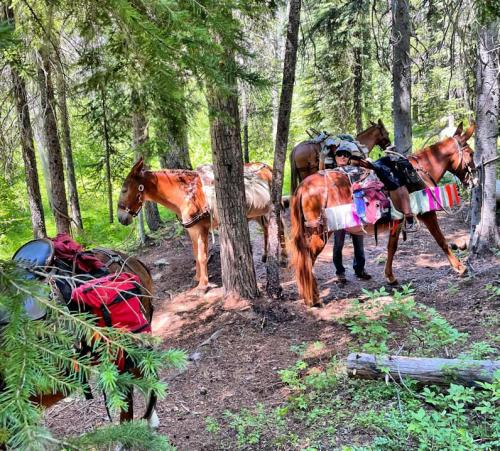 The 4th of July Week, will be our first stock packing/camping in the high country work party for the season. The trail to Cradle Lake is usually clear of snow by then and usually presents with some challenging big logs! We live for this! If there is time, we will continue logging west on Meadow Creek Trail. This requires fit stock!
Sunday July 3 - drive into Black Pine Horse Camp, report vehicle mileage, do paperwork
Have a safety meeting
Organize tools with consideration of pack stock
Monday July 4 - Pack into the Meadow Creek Hunter Camp-celebrate the 4th with a tasty Mountain House Dinner and clang pans!
Tuesday July 5- Start logging the trail to Cradle Lake
Wednesday July 6 - Continue logging where the logging fairies take us
Thursday July 7 - same
Friday July 8 - Pack out to Black Pine Horse Camp
Saturday July 9 - drive home
Report to Wenatchee River Ranger District work that was accomplished
Fine tune tread work projects for the Big Work Party for final tool planning
TJ Broom and Carly Reed, we will need the most sights at Black Pine Horse Camp Saturday, June 11-14, 2022 and 2 spots stock spots June 14-16. This is not a big weekend for the camp as it is still recovering from winter. Will we be able to get sites at no cost? July 4th week we will need 3(?) sites.
Joanne, how do revised plans look for cleaning up Black Pine Horse Camp and logging out 1597.1 trail out of camp? Terry says that the camp is in pretty good shape. No major logs down in camp. Sweeping off tables and picking up branches is about it - still a big job.
Justin, how do revised plan look for the 4H crew?
The week of July 4-8 the stock folks will be packing into Meadow Creek Camp and leaving trucks and trailers unattended at Black Pine Horse Camp. If any of the Wenatchee BCH folks are camping at Black Pine, could they check on our riggs every so often? Trail Head and camp ground vandalism is real, unfortunately.
Lets keep getting in shape and...
Trail Work On!
Barb
253-312-3626
For additional information click here
To register for the Work Party, click here
For Directions to Black Pine Click Here