BCHW/USFS Chain Saw and Crosscut Saw Certification Program
Important Updates!!
Forest Service/National Park Service Chainsaw MOA for signature pdf
Letter from the USFS regarding Extension of EXP date of First Aid / CPR / AED / BBP Certification.
This pertains to Recertification's ONLY! Click on the link below
USFS Interim Directive extends Sawyer qualification expiration dates until December 31, 2022
Additionally... FA/CPR credentials are also good until March of 22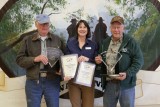 Your Sawyer Program Leaders
Tom Mix and Tony Karniss

Be aware :
There may be an increase in likelihood of fuel geysering due to a delay in the transition from winter to summer blends at the pump. Winter blends are more volatile since they are formulated to work in colder weather. The transition to a less volatile summer blend occurs in spring for most areas; however, fuel supplies may be transitioning later than normal due to reduced travel.
BE AWARE!
Gasoline being used during the warming months—May, June, July—may be more susceptible to geysering than in previous years.
Pete Duncan
National Saw Program Manager

Forest Service
Student Resources
October 2, 2022, Sawyer Certification Course Application Click here
Sawyer Certification Class online Request Form
Chain Saw and Crosscut Training Course Student Guidebook
Saws that Sing: A Guide to using Crosscut Saws
"One Moving Part: The Forest Service Axe Manual"
Instructor/Evaluators Contact List
BCHW Sawyer Class Online Registration Process Flow Chart
Sawyer Training Videos
Additional Resources
2017 Saw Program Volunteer Updates
Wildland Fire Chain Saws Student Workbook
State wide land manager radio communications frequencies and repeater chart