BCHW 2022 Rendezvous
Scroll Down to View Info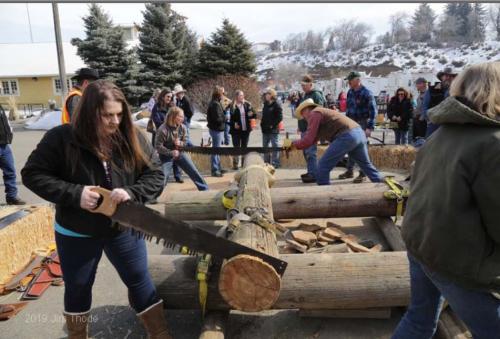 What is our BCHW Rendezvous?
It is a state sponsored event put on by Back Country Horsemen of Washington that is open to the public. This is a non-riding event. We offer educational classes, shopping, social and informative events and seminars. There are no fees for anything other than the Saturday night catered dinner and on-site camping.
BCHW Rendezvous 2022 Details:
It will be held March 18 through the 20th and located at the Kittitas Valley Event Center in Ellensburg, Washington. Mark your calendars now! Email your questions or comments to rondy2022@bchw.org.
---
Schedule Info:
TBD
---
Registration Info:
CAMPING On-site camping at KVEC is available. There are separate designated areas for electrical hook-ups or dry camping (no electrical). Even if not using electricity but parked in hook-up spots, we will have to charge the hook-up fee. All campers may use the showers and the dumping. No reserved camping spots. Groups wanting to camp together need to arrive together.
Fees and reservations are only needed for on-site camping and Saturday night's catered dinner.
For online reservations, click here. For questions, contact us

For a printable Registration Form, click here.
Map of the Kittitas Valley Event Center, Click here
Separate Class Registrations Required for:
First Aid/CPR class
More info click here Click here to register
"Just Pack It" Packing Clinic
More info click here Click here to register
RESERVED TABLES for Saturday Night Dinner and Auction:
Please check with your chapter for availability!
EARLY BIRD CAMPING: Must be post marked/emailed with payment no later than March 10, 2022
NO REFUNDS after March 1, 2022
Chapter Display Info:

Contact us if you would like to have reserve a space.
Photo Contest Info:
For information and rules Click here
Tack Sale Info:
Click here for details on the BCHW 2022 Rendezvous Used Tack Sale. March 18 thru 19th, 2022 9 a.m. to 5 p.m.
Click here for Printable Tack Sale Flyer
Keynote Speaker, Robert Eversole, TrailMeister:
Rendezvous booth info Click here for Flyer
---
Vendor Info:
Vendors need to contact Teri Starke at tstrk21@msn.com / 253-709-5052
---
---
Are you interested in being a Presenter for a class or demonstration?
We need people who would like to lead classes or provide demonstrations on particular topics. Contact us with your ideas.
---
Review Pictures of 2019 Rendezvous:
Click here to view images.
---
Contact Info:
Email your questions or comments to rondy2022@bchw.org. Our BCHW event planner is Jen Bond.
Covid Protocols:
When we get closer the protocols will be posted here. Whatever the Ellensburg Health Department rules are at the time of the event weekend is what will be posted as the requirements. There is a current Statewide mask Mandate.